Account View

Secure financial account access anytime, anywhere, on any device.
OVERVIEW OF THE TECHNOLOGY
In 2020, 282 million people in the United States accessed the Internet via a mobile device, with the majority of users accessing information that's important to them via an app.1 The world has gone mobile, and giving clients access to their financial information via an app is no longer an option for businesses today—it's a necessity.
That's why we're excited for you to get a feel for the Account View 2.0 mobile app and portal. It provides you with on-the-go access from the mobile app, and a modern, easy-to-use dashboard. Plus, you have the ability to go paperless with over 99% of your communications.
Technology needs to constantly evolve, and Account View is no different. We're continually building and enhancing Account View 2.0 to ensure it fits your needs and surpasses your expectations. You will continue to see new features and capabilities within Account View 2.0 mobile app and desktop portal.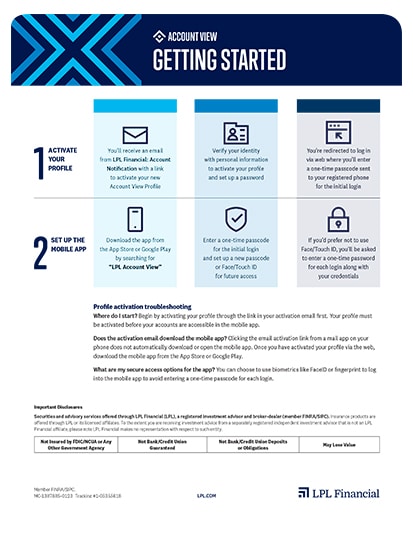 ACTIVATE THE TOOL
Follow these simple steps to easily self-register for Account View 2.0.
Go to https://myaccountviewonline.com/login/ and select 'Sign Up'.
Enter your email, phone, and the last four digits of the SSN that you provided to your financial professional. Then, complete the reCAPTCHA. All fields are required.
Select 'Find Me' to continue.
Review and Agree to the Terms and Conditions.
Create and Confirm your password.
Log in with your new credentials
Select your verification method using your device to receive the one-time password (OTP) sent to your registered phone number.
Enter your code, then click Verify. Your Account View 2.0 home page will appear.
If you have difficulty creating your profile, you can contact your financial professional for help. If you're already using Account View, but have the legacy version that doesn't include app access, simply reach out to your financial professional to get started.
Read More
GO PAPERLESS
How-to Go Paperless Guide for Investors
Login in to your account at www.myaccountviewonline.com/login/
At the top of the page where is says "Paperless Status" click on it.
From there you can choose to either go 100% paperless for all eligible documents or pick and choose what you receive paperless and by mail delivery.
Read More